Lovely Professional University partners with Edu Brain Overseas to provide international internships
Last Updated Mar - 15 - 2023, 11:05 AM | Source : https://collegedunia.com/news/lovely-professional-university-partners-with-edu-brain-overseas-to-provide-international-internships-alertid-95624 | Visitors : 19
Lovely Professional University partners with Edu Brain Overseas to provide international internships to it's students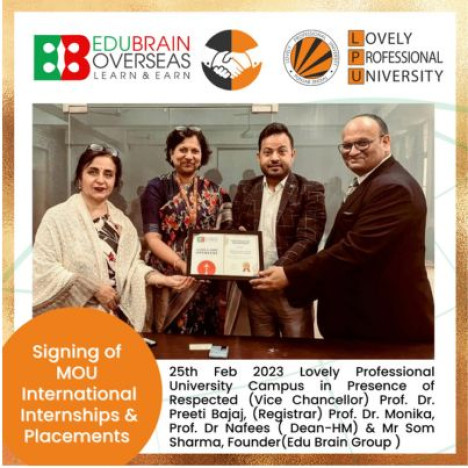 Lovely Professional University (LPU) has recently partnered with Edu Brain Overseas, in order to provide international internship and overseas placement opportunities for its students. Edu Brain Overseas offers international internship programmes in Dubai, Singapore, France, Australia, and New Zealand.
It helps young professionals develop their personal and professional skills, facilitates obtaining training that meets international standards, expands their global network, and fosters the development of industry-specific skills like time management, effective communication, learning a new language and culture, and workplace adaptation. one of the biggest Indian consultancies for overseas internships.
According to a formal release, the Memorandum of Understanding (MoU) was signed in the presence of the LPU Vice-Chancellor, Prof. Dr. Preeti Bajaj, the Registrar, Prof. Dr. Monica Gulati, (Dean-HM), Prof. Nafees Haider Naqvi, and the Directors of Edu Brain Overseas, Som Sharma and Supria Rai.
"With this agreement, we intend to provide LPU University students in France, Germany, the United Arab Emirates (UAE), and the United States (US) the most appropriate paid abroad internship programmes and overseas placement opportunities," said Som Sharma. According to a press release, Edu Brain Overseas UAE will support students with the application process, assist them with visa applications and the timely filing of required papers, and provide career counselling.