NIRF Rankings 2022: Heartiest Congratulations to IIT Madras for topping 'Overall' & 'Engineering' Category
Last Updated Jul - 18 - 2022, 02:19 PM | Source : | Visitors : 13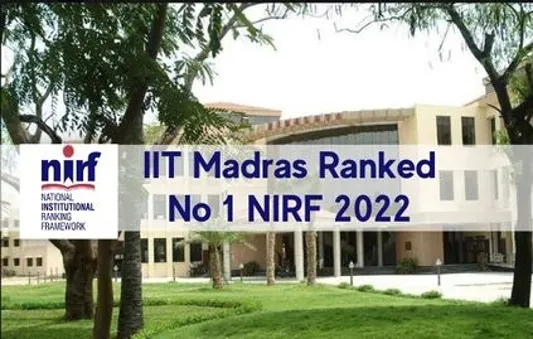 NIRF India Ranking 2022 was released on July 15, 2022, by Education Minister Dharmendra Pradhan. Talking about the NIRF Ranking, it follows a methodology to rank institutions across the nation based on certain parameters. The methodology got formulated by the universal recommendations and broad understanding arrived at by a Core Committee set up by MHRD, to identify the broad parameters for ranking various universities and institutions. The parameters that lie under NIRF Ranking broadly cover the sectors including Teaching, Learning and Resources, Research and Professional Practices, Graduation Outcomes, Outreach and Inclusivity and Perception. Now, whenever a student searches for the 'Best Colleges for Engineering in India' or 'Best Engineering colleges in India', the NIRF rankings will make it easy for them to decide on their dream college or institution.
This time, NIRF Rankings 2022 has been released for eleven categories. In the engineering category, the Indian Institute of Technology (IIT Madras) has secured rank 1 followed by IIT Delhi and Bombay. IIT Madras topped the engineering college ranking for the seventh year in a row. In the NIRF ranking 2022 engineering category, apart from the Indian Institute of Technologies, three National Institute of Technologies- NIT Tiruchirappalli, NIT Hyderabad, NIT Surathkal featured in the top 10 engineering college category.
NIRF Rankings 2022: List of Top Engineering Colleges
Federation of Education Leaders & Administrators, a leading Higher Education Leader's Forum extends the heartiest congratulations to all the top Engineering Colleges of India for their unmatched accomplishment. It is indeed a proud moment for the nation to have such an esteemed university that produces exceptional students who not only excel in their respective fields but also make our nation proud across the globe.
READ | NIRF Ranking 2022: IIT Madras tops in Overall Category
The search for NIRF Best Engineering Colleges stops here with the best engineering colleges on screen. Talking about the Indian Institute of Technology Madras (IIT Madras), it is truly an unparalleled achievement for an institution to be ranked as the top engineering college for the 7th time in a row and also bag the top rank in the 'Overall' category for the 4th time in a row. Besides, the institution didn't miss to attain 2nd position in the field of 'Research'. With this extraordinary ranking, IIT Madras emerges as the undisputed leader in Higher Education in India.
On this remarkable achievement, V Kamakoti, Director of IIT Madras, said, "I dedicate this achievement to all the students, staff, and faculty of my Institute. Special thanks to all the frontline workers who kept the Institute ticking during the Covid times. Thanks to the Ministry of Education, and the Government of India for their continued support and encouragement. The NIRF process gives detailed feedback... While we will continue to leverage on our strengths, we will address the weaknesses to march forward."
Besides, he also expressed his thoughts on how the institute is moving to become locally relevant while being globally recognized. He stated that a dedicated set of faculty & students even amid the COVID situation have been the institution's strength. Besides, he also emphasized on the research that has been transitioning as the institution has started addressing local problems.
He said, "There are three important reasons. First, is our dedicated set of faculty and students. They have been supportive, especially during the Covid-19 period, so we have been able to perform. Secondly, since our research has been transitioning, we have started addressing local problems. Now, we are becoming an institution that is of local relevance and is globally recognized. For the past 20 years, we have been driving this change, moving from research to research and to product... Thirdly, we are good at outreach. Our rural outreach programs have helped in keeping our perception high not only among the elites but in rural places also... We have performed under multiple parameters, including entrepreneurship, innovation, research grants, citations, scholarship, and social relevance."
READ | AICTE aims to employ 1 crore students, launches digital skilling initiatives
Talking about the global ranking, he said, "For the global ranking, there is a perception that we need to handle. Thanks to NIRF, today itself I got over 40 congratulatory messages from across the world – this is a perception improvement about us. NIRF rankings give us good feedback to leverage our strengths and address our weaknesses."
Stating IIT-M's weakness, he said, "We are number two in research, we will work to be number one. To reach 80-90 out of a score of 100 is easy but to jump after 90 is difficult. When you get 40 out of 100, you get a macro picture. When you reach 90-95, you get a micro picture where you see if you could have gone higher. We will aspire to go towards 100. But we are not looking at the mark, we are looking at the implication of the mark. No institute can be perfect. But we will aim towards that."
V Kamakoti wants to have a good perception in terms of outreach and become an accessible institution. "As of now, we have a good perception in terms of outreach. We are becoming an accessible institution. However, in comparison to Western universities, we need to become more demonstrative. We need to demonstrate our relevance to the world." he said.
According to a statement issued by the education ministry, the number of institutions that applied to participate in the overall rankings increased from 2,426 in 2016 to 4,786 in 2022. Besides, the number of applications for ranking in various categories has increased from 3,565 in 2016, to 7,254 in 2022.