CSIR Awards 12 Scientists with Shanti Swarup Bhatnagar Prizes for 2022
Last Updated Sep - 12 - 2023, 08:08 PM | Source : http://newsonair.gov.in/ | Visitors : 6
The prestigious Shanti Swaroop Bhatnagar Awards for 2022 have been announced after a two-year hiatus.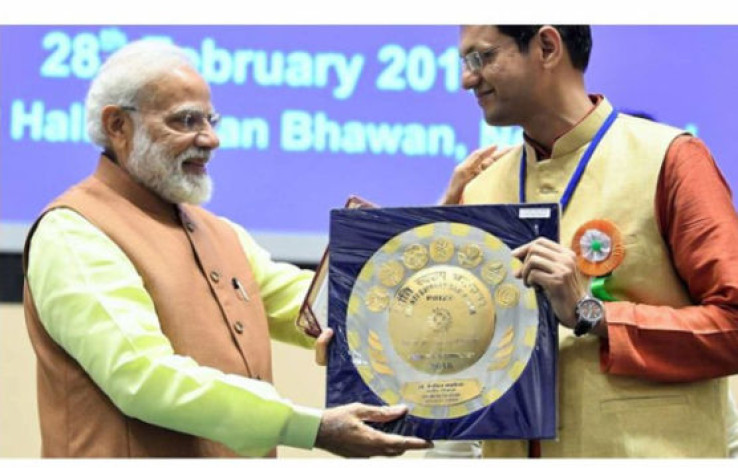 The Shanti Swaroop Bhatnagar Awards, the country's top yearly science prize, were revealed today after a gap of two years Twelve scientists will receive honours in seven categories this year.
READ MORE| TV Narendran, CEO of Tata Steel, Appointed Chair of IIT Kharagpur's Board of Governors
In the presence of Union Minister for Science and Technology Dr. Jitendra Singh, CSIR Director General Dr. N. Kalaiselvi announced the awards for the year 2022. These prizes, which honour the first director of the CSIR, Shanti Swarup Bhatnagar, are granted annually in the following seven scientific fields: physics, biology, engineering, mathematics, medicine, chemistry, and earth sciences.
Dr. Jitendra Singh, the Union Minister for Science and Technology, stated that the recent G20 conference served as a platform to highlight India's technological prowess and economic power.
It's time to tell the world what we are doing in the field of science for the benefit of the general public, said the Minister, who is also vice president of the Council of Scientific and Industrial Research (CSIR), at the launch of the One Week One Lab programme of the CSIR-National Institute of Science Communication and Policy research.
At CSIR-NIScPR, the One Week-One Lab programme began today and will run until September 16th. In this campaign, over the course of a week, each CSIR lab presents to the nation its original concepts and cutting-edge scientific advancements.
On this occasion, books titled "CSIR@80 A Photo Journey '' and "Collection of 80 Articles of Vigyan Pragati Magazine '' were released by Union Minister of Science and Technology Dr. Jitendra Singh.
The Director General of CSIR, Dr. N. Kalaiselvi, stated that these programmes serve as a bridge between the scientific community and the general people, making science communication crucial in the modern period. She claimed that NIScPR is conducting this work effectively.
On the occasion, Professor Ranjana Aggrawal, the director of CSIR-NIScPR, was joined by a number of luminaries from the scientific community. In the future, the CSIR will use the 'One Month One Theme' campaign to disseminate awareness of the contributions of its units to the general public, according to Dr. Jitendra Singh, following the model of 'One Week-One Lab'.
READ MORE| UGC Aims to Release 1,500 Publications in Indian Languages